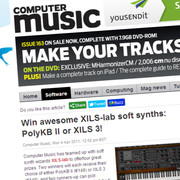 Computer Music magazine has announced two Facebook competitions, offering a chance to win XILS Lab synths and Photosounder, the image-based audio editor/synthesiser for PC and Mac.
Computer Music magazine has teamed up with soft synth wizards XILS-lab (xils-lab.com) to offer four great prizes. Two winners will each receive their choice of either PolyKB II (€149) or XILS 3 (€149), and two runners-up can pick between PolyKB Player (€25) and XILS 3 LE (€30).

PolyKB II is one of the finest analogue synth emulations in existence – in CM154's review, we slapped it with a Performance award and a 9/10 rating.

XILS 3 offers a semimodular design based on the classic EMS VCS3 synth. CM143's review saw it garner a 9/10 score and a Performance award.
Computer Music magazine is also offering a chance to win one of 10 copies of Photosounder.
Photosounder works by converting sound into an image, for direct editing in a visual manner, offering up numerous editing options that you simply won't find anywhere else. It's a lot more fun, intuitive and easy to use than you might expect, so don't write it off as a high-brow tool that's only for tech-heads!
The entry forms for both competitions are available to those who 'like' Computer Music on Facebook. The XILS Lab competition deadline is 8 April 2011, the Photosounder one ends 15 April 2011.
More information: Computer Music
Note: Due to legal restrictions, both competitions are open only to UK and US residents aged 18+.