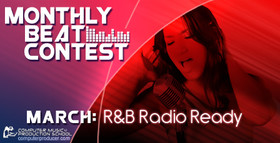 The Computer Music Production School has announced the launch of its RnB Radio Ready beat contest, an opportunity to battle with other producers for prizes, recognition and potential label release.
The RnB beats created will incorporate the sound made popular like Ne-Yo's "Miss Independent", "Rihanna's "What's My Name" produced by Stargate, Black Eyed Peas' "Just Can't Get Enough" and Mary J Blige's "The One" produced by Dark Child. Catchy hook melodies, up-tempo drums, pop appeal, and originality are some of the criteria beats will be judged on.

Participants will have 30 days to submit material. Submission Deadline is April 15th. Only one track allowed per month/per entry. Submission fee is $10 and Computer Music Production School students participate free of charge.
More information: Computer Music Production School