Chocolate Audio has released Contemporary Vintage Drums, a collection of classic drum kits for BFD and Kontakt, designed with a modern approach to sound production and mic choice in order to get fresh new sounds.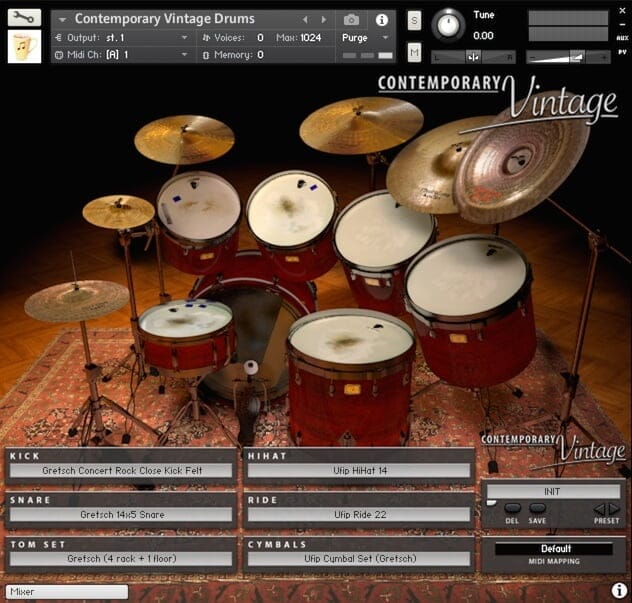 Contemporary Vintage Drums features 3 full drum kits sampled from:

a Ludwig "Beatles" tribute kit (stick).
a Ludwig "Beatles" tribute kit (brush).
a 1977 Gretsch Concert Rock kit (stick).

The kits come with 3 sets of cymbals sampled from a Zildjian A series set (stick and brush) and and UFIP set (stick) and 2 additional Ride Cymbals (Turkish and UFIP) and 7 snares overall (Ludwig, Gretsch, Pearl and Tama).
Contemporary Vintage Drums features
BFD Expander and Kontakt versions – all in one pack.
27 GB – BFD Expander version (9 GB on BFD 3 if installed compressed).
12 GB compressed – Kontakt version.
Between 21 and 39 GB both versions (based on install options).
52600 samples.
3 full drum kits (2 stick + 1 brush).
60 drum pieces.
Sampled in full detail: up to 245 samples per articulation and up to 11 round robin (Kontakt).
The best of both worlds: the power of BFD for drums, the ease of use and integration of Kontakt.
Recorded in a top-notch studio with choice mics.
Up to 4 close mics.
4 room mics: Overhead stereo, Overhead mono, Room U87 and Room PZM.
Warm and deep sound, processed through an analog tape machine.
Custom Kontakt engine and interface.
Recorded at 24-bit / 96 kHz, released at 24-bit / 44.1 kHz.
Contemporary Vintage Drums is available for purchase for the introductory price of $90 USD (regular $129 USD). Requires FXpansion's BFD 2, BFD 3, BFD Eco and/or Kontakt 4.5.3 full version and higher.
More information: Chocolate Audio / Contemporary Vintage Drums