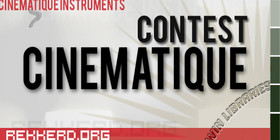 Comprising over 40 titles, the Cinematique Instruments sound library of rare and unique sampled instruments includes strings, keys, percussion, mallets & tuned percussion, drumboxes, the Gecko series of musical tools, and some more experimental things.
The library is perfectly suitable for all kinds of music productions giving your music a special character. Even though there is a slight focus on film music, you can benefit from these unique sounds in various fields of music productions, too.
When listening to the product demo tracks and music pieces composed with Cinematique Instruments – most of which are by Cinematique's very own Eric van Gent – you will find a consistent quality and vibe to what you hear. This is where the contest comes in.
The idea of "Contest Cinematique" is to compose a track in the vein of Cinematique Instruments. In other words, to create something with that signature sound/feel that Cinematique describes as doing things "the other way".
For those up to the challenge, there is a chance to win some prizes. The top 3 winners – chosen by Cinematique Instruments, will receive a number of Cinematique Instruments products:
1st prize: 7 instrument libraries of your choice (~ 210 EUR value)
2nd prize: 3 instrument libraries of your choice (~ 90 EUR value)
3rd prize: 1 instrument library of your choice (~ 30 EUR value)
Contest rules
The theme is to create a track in the "style" of Cinematique Instruments.
Your entry should be composed specifically for this contest. There are no other limitations (song length, instruments/sounds used, etc.)
Submit your entry in mp3 format (minimum 192kbit) per email to contest@rekkerd.org before May 26th, 2012, 11:59pm CET.
One entry per person is allowed, you will receive confirmation of your submission per email.
The winners will be chosen by Cinematique Instruments.
Contest rules subject to change. If you have any questions feel free to contact me or comment on this post.