Plugin Boutique has launched a sale on the VIP 3.1 Plus music software that enables you to control your entire VST instrument and FX library directly from any keyboard.
The Plus bundle includes VIP 3.1, Creative FX Collection Plus, Hybrid 3, Vacuum Pro, Xpand!2, Loom and the ToolRoom Hybrid 3 Expansions, plus 40 multis pre-built featuring chords from many popular songs for instant inspiration.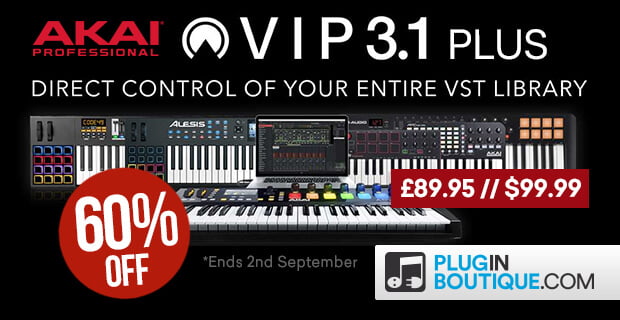 Switch patches from all your VST's in one place, instantly access pre-mapped plugin parameters for hands-on knob tweaking, customise pre-set loading from multiple VST's using set-lists, and much more.

VIP extends the capabilities beyond what any DAW offers by empowering you to quickly create and play "multis." A multi allows you to combine up to 8 patches from 1 or more plugins, with the ability to layer, mix and pan these patches all at once.

VIP software users can also create set-lists that provide on-demand access to your customised instruments for stage performance and studio work. By simply pressing a single button on any Keyboard, you can adapt to song changes as the live performance progresses-without ever reaching for your computer. That's what you want!

VIP also brings you an intelligent patch browser that works across all your VST instruments to let you quickly find sounds based on instrument type, timbre, style or articulation, or simply explore patches you never knew you had!

You'll also love VIP's facilities for browsing, key zone splitting, layering of up to 8 instruments per VIP instance, expansive custom mapping capabilities, and support for any VSTi plugin. You can run as many instances of the Virtual Instrument Player as your computer allows.
VIP 3.1 is available as a standalone application, as well as in VST, AU, AAX plugin formats for use in your DAW.
The VIP 3.1 Plus bundle is on sale for £90 GBP until September 3rd, 2018.
More information: Akai Professional