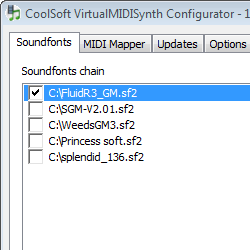 CoolSoft has released version 1.9.0 of VirtualMIDISynth, a software MIDI synthesizer implemented as a Windows multimedia user driver, accessible as a standard MIDI Out device.
Version 1.9.0 adds a long waited (and popular) feature: *reverb and chorus* settings.
These settings are not "live", they must be set through *Configurator -> Options* tab, so a VirtualMIDISynt restart is needed. (I suppose this is the best implementation because (usually) these settings are sent through SYSEX messages at the beginning of a song, not during play).
Changes in VirtualMIDISynth v1.9.0
NEW: Configurator settings for Reverb & Chorus effects level.
NEW: Configurator setting to override Reverb & Chorus SYSEXes received from MIDI (and force our custom levels).
NEW: Updated BASS to version 2.4.10 and BASSMIDI to 2.4.8
NEW: Added Magyar language support (thanks to Nádasdi Zsolt)
NEW: New setup commandline option "/skip_os_check" to let it run on misdetected systems.
VirtualMIDISynth is a free download for Windows.
More information: CoolSoft