Impact Soundworks has introduced its new Cinema Sound Foley Library, a specialized virtual instrument for sound designers, foley artists, editors, DIY directors, and other audio post-production professionals.
The Cinema Sound Foley Library (CSFL) allows you to easily create Hollywood-level immersive audio by "performing" foley via MIDI. This saves lots of time (and money) compared to recording your own foley or assembling audio piecemeal from multiple libraries.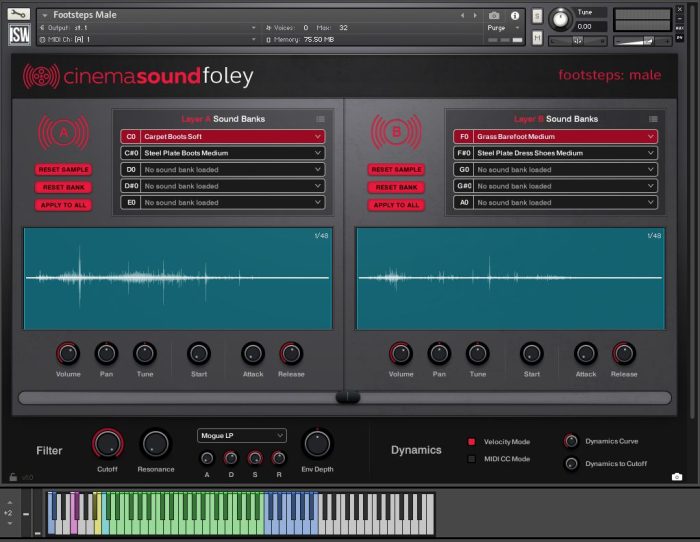 Recording your own foley takes gear, time, and practice, while buying existing foley libraries often means time wasted chopping up and editing long audio files. CSFL makes the process much easier by giving you tons of carefully-edited and categorized samples ready to perform via your MIDI controller.
Created in collaboration with Cinema Sound, the world's leading experts in film audio education, CSFL includes a huge library of carefully categorized samples that are easily editable right within Native Instruments Kontakt.
Cinema Sound Foley Library features
Over 54,000 foley samples.
Pristine 24-bit, 96KHz recordings.
Eliminate sameness with a huge variety of male & female footsteps.
Capture movement & intimacy with clothing and skin touches.
Build tension with body percussion & grunts.
Add horror and battle elements with impacts and weapons.
Bring action to life with crunches, swishes, rustles and more.
Ideal for real-time foley performance.
Two-layer engine with adjustable blend.
Custom banks accessible via keyswitch.
Intuitive sound and category browser.
Per-key SFX tweaking.
Multiple dynamic modes (vel, CC).
Over 30 FX modules included.
Fully NKS compatible
Works with the free Kontakt Player 5.7+
Cinema Sound Foley Library is available at a special introductory offer of $179 USD (MSRP $199 USD).
More information: Impact Soundworks