BOOM Library has announced the release of SoundWeaver, a standalone software for layering audio to help you design new sounds from your existing sound library in less time.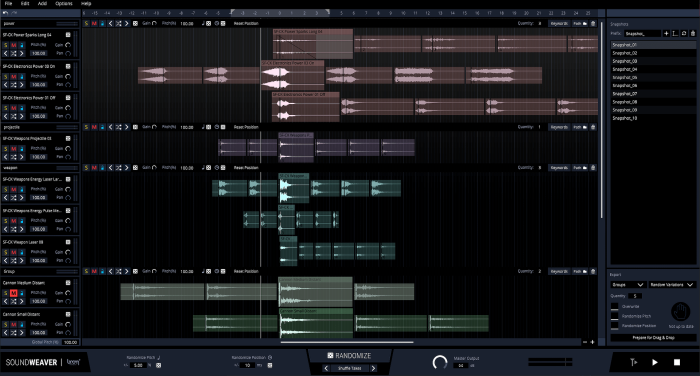 SoundWeaver opens up a highly inspirational sound design workflow, exploring the depths of your sound library.
SoundWeaver automates and randomizes certain parts of your sound design workflow. SoundWeaver searches your sound library with the help of keywords or folder paths and picks matching sounds for your project.

Sounds are automatically sorted, grouped, layered, aligned and split into regions (if files contain multiple variations). Now you can pitch, offset, gain, shuffle and randomize individual sounds, groups or the whole project. The possibilities are endless.

Take snapshots of your favorite combinations and settings. Create as many snapshots as you like and return to them later in the process. Drag'n'drop the project into your DAW for further editing or export the final mix. SoundWeaver can generate countless variations from your project during export via pitch, offset and take randomization.
SoundWeaver features
SoundWeaver automatically picks, slices, aligns and layers sounds.
Search by keywords, folders or drag'n'drop.
Pitch, offset, gain, shuffle and switch out individual sounds, groups or the whole project.
Each of the previous parameters can be randomized..
Export: Drag'n'drop the project into your DAW.
Export as: Individual layers, groups or mixdown.
Export features: Generate variations using pitch, offset or random takes.
Take snapshots and return to your favorite combinations, parameter settings and sounds at will.
SoundWeaver for Windows and Mac is on sale at an introductory 20% discount for a limited time. The regular price is 179 EUR / $199 USD. SoundWeaver requires a free iLok account.
More information: BOOM Library