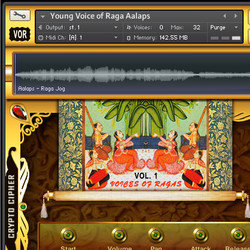 Crypto Cipher has launched Voices of Ragas Vol 1, a Kontakt library featuring ancient Indian ragas.
This library includes many variety of ragas with diverse emotional moods. Voices of Ragas Vol-1 Covers "words based phrases" as well "Aahs!/Aalaps" which don't have any words in them. "Aahs!/Aalaps" have Speed Control feature and "words based phrases" have tempo sync feature.

The uniqueness of this library is that we have provided Kid Voice and Young Voice of the same vocalist Alish Mohan. Alish Mohan is trained vocalist under Banaras Gharana and has a very unique voice.
Voices of Ragas Vol 1 features
North Indian Hindustani Classical Style Raga Library.
Three Patches (Innocence of Raga Voice, Young Voice of Raga, Young Voice of Raga Aalaps).
Kid and Young male Raga Voices of same Vocalist.
Covered Aalaps / Aahs!, Phrases, Sargam and Taans.
Ragas Covered in Kids Voice: BhimPilasi, Bihag, Desh, Durga, God Sarang, Jai Jai Vanti, Jaunpuri, Kalingda, Lalit, Maru Bihag, Multani, Parmeshwari, Patdeep, Purvi, Tilak Kamod.
Ragas Covered in Young Voice: Darbari, Jog, Marwah, Multani, Puriya Dhanashri, Shankra, Basant, Patdeep, Todi, Yaman, Ramkali.
Young Voices Patch will go well with C# Drone and Kid Voices Patch will go with G Drone.
Custom Script for Voices of Ragas.
Pink Keyswitch for Selecting Ragas, Green Keyswitch to select Vocal Style of that Raga, Blue zones have Samples.
Pitch wheel Control the speed of phrases in Aalaps/Aahs. "Words based Phrases have Tempo sync feature.
Sample Resolution : 44.1 KHz/ 24 bit Format.
Wave Files are kept unlocked.
The library is available to purchase for the introductory price of $59 USD until January 7th, 2014 (regular $79 USD). All other Crypto Cipher products are 50% off until January 7th.
More information: Crypto Cipher / Voices of Ragas Vol 1