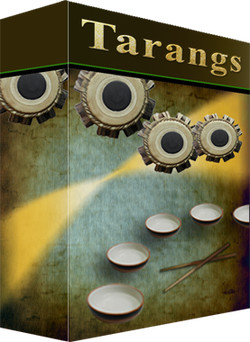 VST Buzz has launched a limited time offer on Tarangs, offering a 50% discount on the virtual instrument library by Crypto Cipher.
"Tarangs" is an incredible 0.5GB library of rare and unusual sounding Indian instruments (the Jal Tarang and Tabla Tarang) for Kontakt. The "Jal Tarang" is an Indian melodic percussion instrument that consists of sets of ceramic bowls tuned with water, then played by striking the edge with wooden sticks. The "Tabla Tarang" consists of a number of hand drums, placed in a semi-circle and tuned to different scales.

"Tarangs" contains both basic instrument patches along with over 20 additional scratchy/tuned, sparkly, tinkly, heavy attacking and reversed patches. The library provides a range of beautiful, exotic and unique sounds perfect for film/TV music or for just adding a unusual twist to your music!
The library is available to purchase at VST Buzz for $24 USD until January 14th, 2014 (regular $49 USD). Requires full version of Kontakt 4.2.3 or higher.
More information: VST Buzz