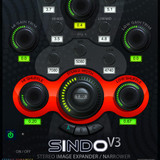 Crysonic has announced the release of SINDO V3, a stereo image expander (widener) / narrowing audio plug-in processor for Windows and Mac.
SINDO V3 offers a uniquely powerful stereo toolkit for digital editing, mastering and tracking for all stereo audio material. SINDO V3 allows to dramatically broaden and 'sweeten' the spaciousness of the stereo image whilst retaining mono compatibility and not affecting the tonal character of the original sound. The Global and individually adjustable frequency 'Rotations' can be used to Pan the center stereo image without altering the mix level balance.
SINDO V3 features
New: First Stereo Width Compression Ability
New: First Of It'S Kind Stereo Field Dynamics
New: Stereo Correlation Compression LCD
New: Low Frequency Adjustment With Preview
Zero Latency
Everything can be automated
Greatly Improved Audio Quality!
Cross-Over Selection and Adjustment to bias Stereo Separation
Targetable Rotations Per Frequency Range Without Altering Mix Level balance
True Global 'Pan' Without Altering Mix Level balance
Phase-compensated ' Shufflers ' for Low and Hi Stereo enhacement
Three Modes of operation to suit all Audio material
Individual Hi and Low Gain trim adjustments
Double click to set each control to default value!
Press Ctrl for finer Adjustment
Very Intuitive and easy to use User Interface
Hybrid M / S Stereo image expander and narrower
Extremely Transparent while retaining Mono-Compatibility
Minimum ' Phasiness'
Retaining the tonal character of original audio
Full automation for all parameters via the host
Custom and user presets
Very Low CPU usage
64-bit internal precision
Highly optimized Assembly DSP code with Vectorization on the Mac OS X Platform
Mastering, Mixing, restoration, audio post production and track sweetening.
SINDO V3 for PC and Mac (AU/VST) is available to purchase for the introductory price of $79.95 USD until 18 December, 2009 (regular $129 USD). All previous Crysonic customer are eligible to upgrade for $31.95 USD.