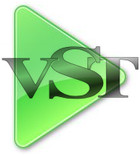 CSR Labs has released vstPlayer, a free media player plug-in for Windows.
Audio File Player VST – A handy VST plugin that is able to play a variety of audio formats. I use it every day with Bidule.
vstPlayer features
Supports multiple audio formats (WAV/AIFF/BWF/FLAC/OGG supported, MP3/AAC/M4A are under active development).
Full featured playlist.
Play/pause.
vstPlayer is available to download as a freeware VST plug-in for Windows.