Plugin Boutique has launched a Cyber Monday Sale on iZotope, offering discounts of up to 80% off on RX 7 Standard, the Vocal Bundle and the Creative Suite.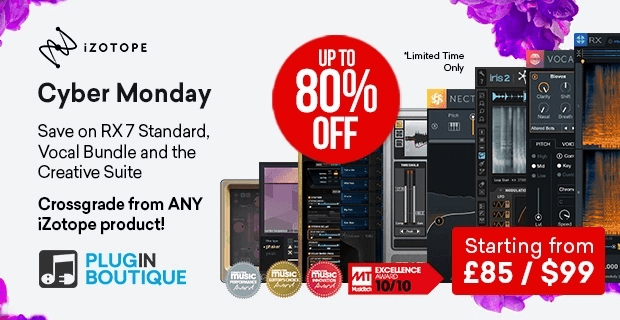 Used on countless albums, movies, and TV shows to restore damaged, noisy audio to pristine condition, RX 7 is a complete toolkit for audio cleanup and restoration needs.
Visually identify and repair problems with the standalone RX Audio Editor application, or use the plug-ins in real time in your favourite DAW or NLE.
RX 7 Standard introduces new features and workflows that allow you to easily edit, repair, and restore audio to pristine condition both in post and music production.
Instantly fix clicks, pops, hum, noise with Repair Assistant, rebalance music or isolate vocals with Music Rebalance, and surgically fix dialogue and musical performances using the editor or plug-ins.
iZotope's Vocal Bundle contains two plug-ins dedicated to vocals, Nectar 3 and Vocalsynth 2, for one great price.
Discover a new love for your vocal tracks with VocalSynth 2's powerful transformative signal processing, and get it all to sit perfectly in the mix with Nectar 3's wide array of audio FX options. Give the vocals you love the treatment they deserve!
The iZotope Creative Suite features seven innovative and inspiring software tools to invigorate your music productions and help them stand out: VocalSynth 2, Iris 2, Trash 2 Expanded, BreakTweaker Expanded, Stutter Edit, DDLY, and Mobius Filter.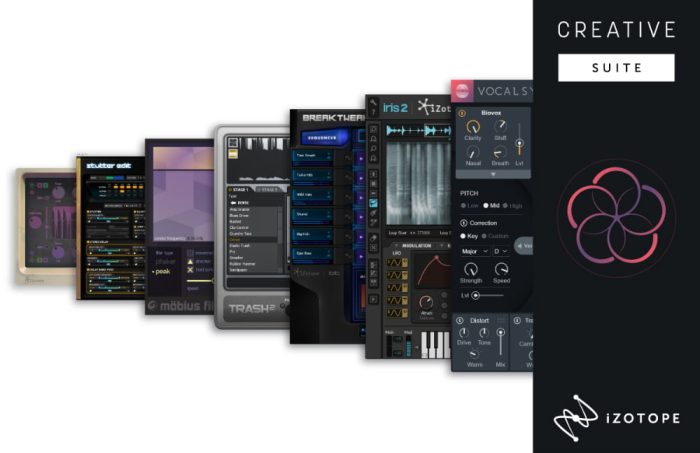 This unique collection of creative products is designed to inspire, elevate, and aid exploration in your music. Make beats, design synths, add texture, and find your sound with the iZotope Creative Suite.
During the Cyber Monday Sale you can also crossgrade to the Creative Suite and Vocal Bundle from ANY iZotope paid products for only 99 EUR / $99 USD.
The offer expires December 7th, 2019.
More information: iZotope