Cycling '74 has announced the release of Max 8, a major upgrade to the visual programming software.
Max 8 includes MC, allowing for objects and patch cords to contain multiple audio channels by simply typing mc. before the name of any MSP object. It also comes with speed improvements of up to 2x on Mac and 20x on Windows, and patch loading is up to four times faster.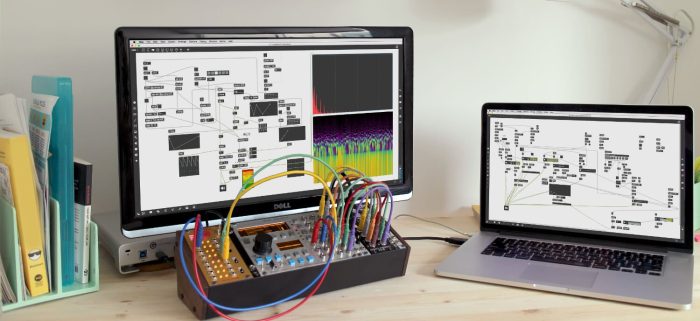 We started the Max 8 project with a focus on improving performance. We hope you find the application launches and loads files noticeably faster and has a more responsive user interface. Building on this foundation, we worked in small teams on several major feature areas including a new Vizzie based on Jitter OpenGL objects, a new Max console, an integrated search feature, UI color themes, compatibility improvements including HiDPI and multitouch support on Windows, Node.js integration, an optional new mode for patching called "Operate While Unlocked" you should try at least once, and an easy-to-use MIDI mapping system inspired by Ableton Live. Behind the scenes, we undertook a major project to streamline the technology that manages Max authorizations.

Max 8 also includes something unexpected: a way to patch with multiple channels of audio we call MC. This was not something we had originally planned for this release, but we stumbled on a way to make this work about a year ago. We found the experience of playing with MC so compelling that we made the decision to postpone the release for a few months in order to make room for it.
Changes in Max 8
Tap into sonic complexity with MC.
Noticeably improved performance.
Simplified MIDI and keyboard control with Mappings.
Vizzie 2, completely rebuilt with OpenGL.
Open your patches to the world with Node for Max.
Experience a streamlined patching workflow.
Uncover the secrets to Max mastery with search.
37 more features including VST3 and Gen for events.
Max 8 is available for $399 USD, or as a subscription for $99 USD per year or $9.99 USD/month. The Max 8 Upgrade is $199 USD and a crossgrade from Ableton Live is $299 USD.
More information: Cycling '74