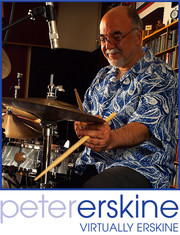 Cymbal Master has announced the release of Virtually Erskine – Peter Erskine Drum Sample Library, an expansion for BFD2 and BFD Eco featuring two of Peter's personal drum kits.
The Virtually Erskine Sound Library features Peter playing two of his kits recorded and produced in high definition by John Emrich.

This collection features Peter Erskine playing every articulation. All recordings were done in Peter's private studio and represent the same pristine sound featured on many of his most recent releases.
Virtually Erskine Drum Sample Library features
Played by Peter Erskine (Weather Report, Steely Dan, Steps Ahead, Diana Krall, Jaco Pastorius).
Formatted for FXpansion BFD2 and BFD Eco.
Includes 2 of Peter Erskine's complete drum kits: a DW Jazz Series kit and DW Collectors VLT kit (for fusion, rock & pop) recorded in his own personal studio to capture his signature "sound".
The Jazz kit is played with both sticks and brushes.
Every drum hit, sample & articulation played by Peter Erskine himself.
Cymbal Masters has also released the Virtually Erskine MIDI Grooves Library, featuring over 400 MIDI grooves of Peter playing 12 unique styles in 3/4 and 4/4, including Jazz, Swing, Rock, Funk and Afro-Cuban styles. The files are formatted for BFD2, BFD Eco as well as General MIDI which can be used with any GM compatible drum software or hardware.
The Peter Erskine Sample Library for BFD is available to purchase from Platinum Samples for $80 USD. The MIDI Grooves Library is $40 USD.
More information: Virtually Erskine