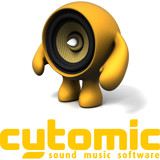 Cytomic has announced The Drop, a filter effect plugin for Windows and Mac.
There has been lots of interest in Cytomic's second product and we are proud to announce it will be an analog modelled resonant filter plugin. It is still in construction but we'll post audio demos and news until the final release which is planned for December 2011 (possibly before if we can manage).
The Drop features
Dual filter section with a Lowpass followed by a Highpass.
Circuits include State Variable (eg SEM-1A), and Sallen Key (eg MS-20), and more to be announced.
Loads of drive and character and analog style noise.
Full frequency range and perfect resonance tracking without oversampling so there is no delay for live use.
Huge amounts of resonance if you want and also a resonance limit button for DJ use to make sure you don't rip people's ears off in a club situation.
Envelope follower, diode modelled, from input or sidechain.
FM from input or sidechain.
Two LFO's, one complex, and one basic.
Audio demos and more information at Cytomic.