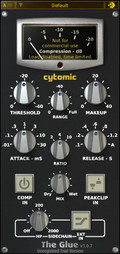 Cytomic has released released a public beta of version 1.0.7 of The Glue, an analog modelled bus compressor plug-in for Windows and Mac.
Cytomic was formed in December 2007 by Andrew Simper as a company dedicated to producing DSP plugins using analog modelling based on quality algorithms, with a focus on ease of use and reasonable pricing. Andrew has been Head DSP Developer for FXpansion for the past 4 years, where he coded the effects for Guru and BFD2, and created the D-CAM: Synth Squad (to be released Q2 2009). Cytomic software is currently in use by top musicians and has already featured on number one singles on Beatport.
The Glue features
Accurate analog model of famous British mix bus compressor of the 80's
Ultra-fast attack time of up to 0.01 mS
Range knob to naturally control the maximum compression applied
Peak Clip to optionally hard limit transients
DSP coded using C++ and assembler, Interface coded using the Juce framework (C++)
The public beta is available for Windows and Mac (VST/AU). It times out after 14 days and it has no load, no paste, and no parameter automation. The public beta version can be registered for $99 USD.
By buying the beta you will receive all future updates and product support for all 1.X version of The Glue, and you are a fully registered user with all the same rights as someone buying later will recieve, but you get to use the plugin earlier and in a slightly less stable state
Visit the public beta page for details.