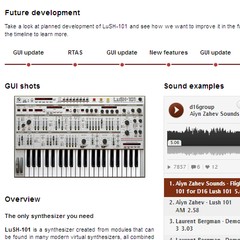 D16 Group has announced its development plan for LuSH-101, a virtual software synthesizer for Windows and Mac.
LuSH-101 is a synthesizer created from modules that can be found in many modern virtual synthesizers, all combined into a single compact and logically intuitive design.

However, this basic simplicity combined with its multilayer architecture turns it into an easy-to-use but extremely powerful instrument that can be programmed and tweaked quickly, almost effortlessly leveraging its maximum potential.
LuSH-101 development time line
GUI update: Hidden keyboard option to save your screen space.
RTAS: Native RTAS support for all Protools users (and AAX a bit later).
GUI update: Additional GUI sizes to fit LuSH-101 the best for your screen resolution.
New features

Second insert effect slot for yet richer sounds
Additional tempo modifiers for synced LFOs to give more control
New destinations in Modulation Matrix for greater expression
Improvements in parameters' handling, automation and MM assignation

GUI update: Additional skins in different colours so you can choose your favourite.
Much more to come…
LuSH-101 for Windows and Mac is available to purchase for 149 EUR/$199 USD/£119 GBP incl. VAT (if applicable).