D16 Group has announced version 2 of Decimort, an upgrade of the bit crusher effect plugin for Windows and Mac.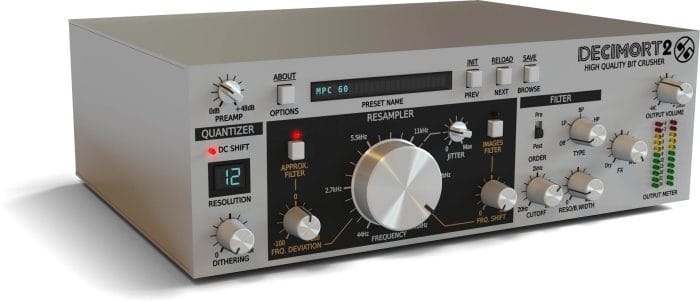 The essence of Decimort's goodness has been enriched with features that provide completely new dimension of control over the bit crushing process:

Two optional anti-alias filters – For greater control over "the desired" artifacts; resampler's aliasing and images.
Adjustable Jitter – Which introduces short-period, random fluctuations to the resampling frequency, producing a type of harmonic distortion you've likely never heard in this context.
Two quantization methods – The mid-raiser and mid-treat decimation algorithms (DC Shift switch), each of them characterized by a drastically different dynamics response
Controllable dithering – Dithering conceptually developed as means to reduce audible quantization errors by masking the harmonic distortions they cause. Here controllable to increase number of ways in which you can (mal)treat the sound.

The final touch is the updated general plug-in framework which includes a tag-based preset management system, alternative UI sizes and refined plug-in configuration.

An upgrade program for Decimort 2 will be prepared for every Decimort licensee, which includes free upgrades and huge discounts. Introductory price will be available also for remaining loyal customers which don't own Decimort yet. More information and coupon codes will be send out to everybody qualified for the discount before the release.
Decimort 2 for Windows and Mac (VST/AU/AAX) will be released on December 22nd, 2015. The release date for a Rack Extension version will be announced later.