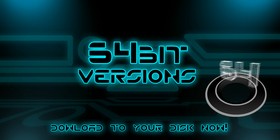 D16 Group has announced that its Classic Boxes and SilverLine collection plug-ins have been updated to include 64-bit versions.
We're glad to inform that all our plug-ins, meaning whole SilverLine collection and all Classic Boxes have been updated, along with providing the new 64bit versions for Windows and MacOS.
Changes in d16 plugins
Native 32 bit and 64 bit versions are provided. For PC we have separate VST 32bit and 64bit versions and for Mac we have universal 32/64 bit version.
New preset browser with improved functionality.
More flexible and easy-to-use options control configuration.
Redesigned MidiCC control including improved Midi Learn mode and assigns management.
Fixed some major and minor bugs and compatibility issues.
The updates are now available to registered users. Demo versions have also been updated.
More information: D16 Group Audio