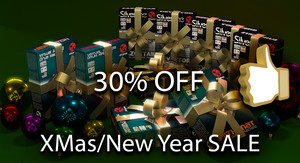 D16 Group has launched its XMas / New Year Sale, offering discounts on its plugins and bundles for a limited time.
Winter is coming, and with it the Holidays, so D16 Group has prepared a fantastic offer for everyone to warm up to: for a limited time, you can get up to a 45% discount on our products!
D16 XMas / New Year Sale
Discounts for single products

– Get a 20% discount instantly on any single product from our online shop. Should you decide you want to purchase more than one product, you will get a 20% discount for your first item and 30% off each additional item (this excludes bundles). This only applies to products purchased as part of single order.

Discounts for bundled products

– There's also a discount for those of you who prefer to purchase bundles over single products: if you decide to buy a D16 Group bundle, you'll get 30% off the price (up to 45% off what you would pay if you were to purchase each product individually).
The offer is available until January 15th, 2012.
More information: D16 Group