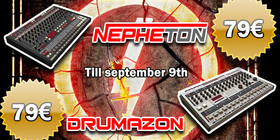 D16 Group has announced a limited time offer for Nepheton and Drumazon, two virtual drum machine instruments for Windows and Mac.
Nepheton contains 17 fully synthesized instruments perfectly emulating the famous 808 drum machine. All the nuances and details of the instruments sounds are captured perfectly. The instruments models are equipped with additional controls giving you possibility to tweak the sound much better.

Drumazon synthesis emulates all the sounds of the original 9O9. All the instruments are synthesized in exactly the same way as the original. All the nuances and detail of the original are captured perfectly. In addition, all Drumazon instruments have enhanced controls. This extra functionality allows the user to adjust the sounds further than on the original unit. This opens up a whole new world of sound creation.
Nepheton and Drumazon are available to purchase for 79 EUR each until September 9, 2010. Bundles containing these two drum machines also have new prices.
More information: D16 Group