D16 Group has released the Classic Boxes Collection, a bundle of Phoscyon, Drumazon and Nepheton.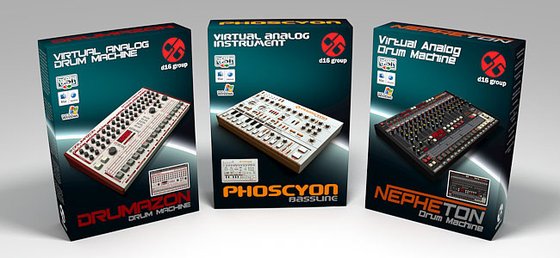 Classic Boxes Collection includes
Phoscyon

– taking the classic analogue sound of the legendary 303 silver box into the future. It offers an unmatched sound together with many advanced features.

Drumazon

– emulates the famous 909 drum machine. All the instruments are synthesized in exactly the same way as the original. All the nuances and detail of the original are captured perfectly. In addition, all Drumazon instruments have enhanced controls. This extra functionality allows the user to adjust the sounds further than on the original unit.

Nepheton

– emulates the famous 808 drum machine. All the nuances and details of the instruments sounds are captured perfectly. The instruments models are equipped with additional controls giving you possibility to tweak the sound much better.
The Classic Boxes Collection is available now for 255 EUR. d16 group also announced the Classic Boxes Collection Group Buy. Until 10 December 2008 you can sign up to get the bundle at even better prices. It looks like it could end up being just over 100 EUR when 100+ people sign up.
More information: D16 Group / Classic Boxes Collection