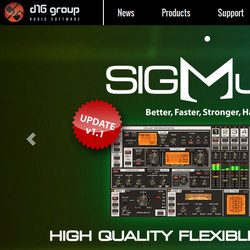 D16 Group has announced that it has finalized the maintenance updating process for its plug-ins.
We'd like to announce that with today's release of LuSH-101 version 1.1.3, Sigmund version 1.1.2, Phoscyon version 1.9.5 and all Drum Machines plugins at version 1.6 we've completed the maintenance updating process we began recently.

Thus making all our software products ready and compatible for the most recent (at the day) OSes and host applications.
Changes in the updates
Providing compatibility with current (at the day) operating systems and host applications.
Changing locations of default settings file and License Key file. (Now these are kept on user level instead of system level).
Minor look and feel changes.
Several fixes for major and minor known bugs.
Changing minimal required OS version to Mac OS X 10.7 for Mac users and Windows 7 for PC users.
LuSH-101: Fixed Multiout issue under Sonar.
Drum Machine plug-ins: Native mode playback control with Midi keyboard added.
Drum Machine plug-ins: Quick step edition (accented step with Ctrl/Shift keys or right mouse button) added.
Drum Machine plug-ins: Fixed corrupted Drum map when was user defined and no file selected.
Drum Machine plug-ins: Fixed Trigger output number recall problem.
Drum Machine plug-ins: Fixed Default pattern bank recall problem.
Drum Machine plug-ins: Contrast has been changed for some visual controls to provide better readability in Drumazon.
Drum Machine plug-ins: Number of outputs increased from 12 to 16 in Nepheton.
Phoscyon: Fixed Start button double clicking issue.
The update is free of charge for registered users; you may download the update directly from your User Area account. Demo versions have been updated as well.
More information: D16 Group