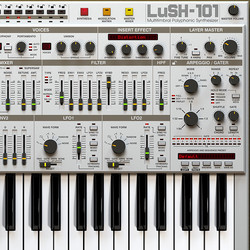 D16 Group has announced version 1.1.2 of its LuSH-101 synthesizer instrument plugin for Windows and Mac.
This update concerns only users owning computers with more than 16 cores available (including hyperthreaded ones). Previous versions of LuSH-101 caused instant crash on an attempt of enabling Multi-core support in the plug-in on such machines. This update fixes the problem.

So if this update doesn't concern you, please don't install it, because it doesn't bring anything new and doesn't fix any other issues.
LuSH-101 for Windows and Mac (VST/AU) is currently available to purchase at a 30% discount as part of D16 Group's Winter Sale. Version 1.1.2 is now available to download for all LuSH-101 owners at the User Area.