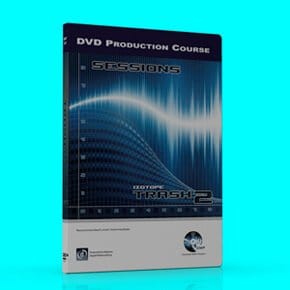 Dance Music Production has announced the release of Sessions 08 – iZotope Trash 2, a video tutorial on the Trash 2 distortion effect by iZotope.
From subtle saturation to add weight and presence, to gritty in your face attitude and up front bass lines, distortion has become an indispensable tool for the production of electronic dance music, and is found in every single production today.

iZotope Trash 2 is easily the most comprehensive and most commonly employed distortion plugin to date. With with over 60 distortion algorithms and the ability to create your own from scratch, Trash 2 is capable of subtle saturation to absolute destruction. But with Trash 2, distortion is just the beginning…

Trash goes further than just distortion, with 2 filter banks, a convolution engine, an extensive multiband dynamics section and a delay section. Moreover, you can place them in any order you like. This amount of flexibility can easily leave you feeling overwhelmed and sticking to the presets.

For this sessions, we decipher the bewildering array of parameters on offer and show you how you can use Trash 2 to its full potential.

We begin the tutorial by working through each of the available options to get Trash 2 working how you want. Nothing is left unturned as we examine each individual module one by one, covering every parameter on offer, starting with the filters, then the Trash module, where we also discuss what exactly distortion is.

We examine the excellent Convolve module and show how to load your own impulse responses. We explore the Dynamics module, discussing the often misunderstood 'Upwards Compression' before finally exploring the Delay module, and of course how to rearrange the order of the modules.

Over 2 hours of practical examples then tie all the information together, revealing the multitude of different ways you can employ Trash 2 to approach different sounds. We explore vocal effects, snare drums, bass, leads, drum bus processing and bass bus processing. It's not all about distortion either, you'll surprised by some of the tricks you can accomplish with Trash 2 that don't involve distortion at all!
The tutorial is available for purchase for £19.95 GBP.
More information: Dance Music Production / Sessions 08 – iZotope Trash 2