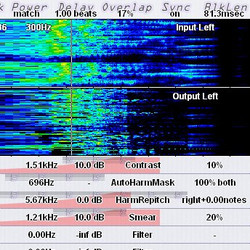 Darrell Barrell has released version 1.1 (for Windows) of DtBlkFX, a multi effect FFT plug-in.
DtBlkFx is a Fast-Fourier-Transform (FFT) based VST plug-in featuring a multitude of effect functions (i.e. equalize, filter, pitch shift, vocode, etc.)
New in DtBlkFx v1.1 (Win)
Higher resolution frequency shifting (64 times previous version).
Many more block lengths.
New mixing effects.
Spectrum resizing effect.
Up to 8 effects in series.
Harmonic repitch with pitch matching – repitch the left channel to match the right channel.
New GUI – graphics can be customized.
Download DtBlkFx v1.1 for Windows below (3.0 MB).
DtBlkFx v1.1 (Windows) (Download size: 3.00 MB)
Note: a Mac version is available as well. It currently has no GUI and the harmonic repitch with pitch matching is not implented in v1.1 for Mac.
Check the DtBlkFx page for more information and a link to download the Mac version.