db audioware has released version 1.1 of its Flying Haggis Guitar Amp app for iPad.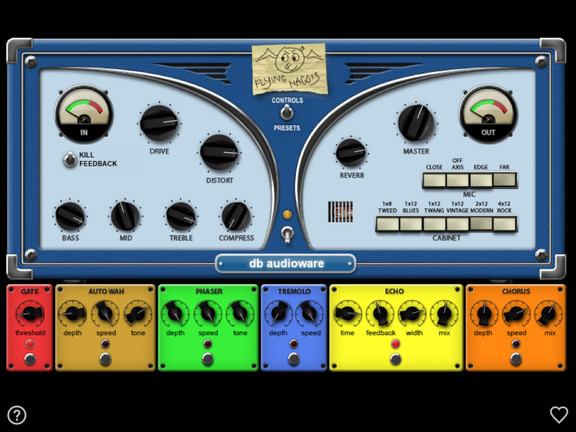 Flying Haggis is an all-original amp design with great tones, a nice selection of vintage fx, and a no nonsense interface with all the pick-up-and-play appeal of real hardware. There are no complex menus or screens to navigate. There are no in-app purchases or advertising to distract you. Just start up the app, plug in your guitar, and play.
Changes in Flying Haggis for iPad v1.1
Added a 'Flying Haggis' preferences panel to the iOS Settings app, with the following features:

Background audio (On/Off).
Enable MIDI control (On/Off).
Primary MIDI Channel Number (1-16).
MIDI Bank/Preset Control (On/Off).

Fixed bug in Audiobus implementation (did not work reliably when loaded into the effects slot).
Improved sound quality when using a guitar interface which plugs into the 3.5mm headset socket.
Display a warning message if Flying Haggis does not have permission to listen to the mic input on iOS7 (along with instructions on how to fix this in the Settings app)
Flying Haggis for iPad is available for purchase for $6.99 USD. The desktop version for Windows (VST/AU) and Mac is $49 USD.
More information: db audioware / Flying Haggis