db audioware has released version 2.0 of Sidechain Compressor and Sidechain Gate, two effect plug-ins for Windows and Mac.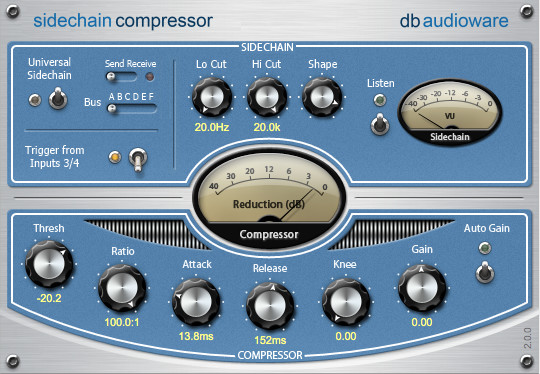 Sidechain Compressor is a flexible VST/AU compressor plug-in. It can be used as a regular channel strip compressor for clean crisp compression & limiting across a wide range of mixing jobs (e.g. adding punch to drum tracks or presence to vocals). For additional flexibility, the sidechain controls (Lo Cut/Hi Cut/Shape) let you customise the compression response.

Sidechain Gate lets you perform clever mixing techniques, by using a source track to gate a destination track. For example, you can use a complex hi-hat pattern in one track to rhythmically gate a synth pad in another track. Or simplify a busy bass guitar by gating it from a kick drum track (so the bass guitar is only heard when the kick drum sounds).
Changes in Sidechain Compressor & Gate v2.0
64-bit VST and Audio Unit plug-in support (for hosts such as Logic Pro X, Cubase, Reaper).
Easier licensing (challenge/response has been replaced with a simple serial number).
A new sidechaining mechanism (using 4 inputs) in addition to the existing Universal Sidechain feature (Requires a host which supports multi input plug-ins such as Reaper).
Support for the latest OS X and Windows operating systems.
Sidechain Compressor and Sidechain Gate are available for purchase for $79 USD and $59 USD respectively. Existing owners of previous versions of these plug-ins can upgrade for $20 USD.
More information: db audioware