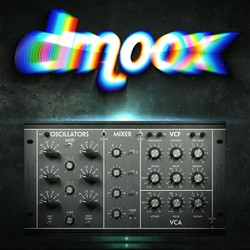 dboxSamples has announced the release of dmoox, a Kontakt sound library that captures the heart and soul of vintage instruments.
dmoox is a sampled instrument. It uses pre-recorded audio clips to generate sounds. Is neither a virtual synth nor a plugin. dmoox benefits from the extensive script programming of Kontakt – the world leading software sampler, bringing you an enhanced experience in music making technology.

We looked back into our gear room to recreate the Midimoog by Studio Electronics, one electronic music's forgotten legend. We wanted to represent all its sonic magic into one single digital instrument for total recall at your finger tips. We have sampled every note of this analogue monster individually for approximately 4 seconds using high end converters, recording everything at 24bits. Once the sound was sorted we decided to give the user a more pleasant experience by crafting a truly unique 3D interface not yet seen in a product of this kind. Add to this 7 onboard effects, pitch envelope, arp and unison, then you begin to realize the truly powerful nature of this instrument.
dmoox for Kontakt is available to purchase for £24.90 GBP.
More information: dboxSamples