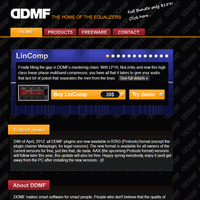 DDMF has announced RTAS support for its commercial plugins.
All commercial DDMF audio plugins (except Metaplugin, for licensing reasons) are now available in RTAS format for both Windows and Mac OS X and should run in ProTools 8 and higher.

For owners of the most recent plugin versions, access to the new format is free.

Also, IIEQPro 3.0.6 and LP10 4.0.2 have been released, now featuring a freely resizable user interface.
More information: DDMF