ddmf has released IIEQ Pro, a 10 band parametric EQ, and SmallEQ, a freeware 10-band EQ VST plug-in.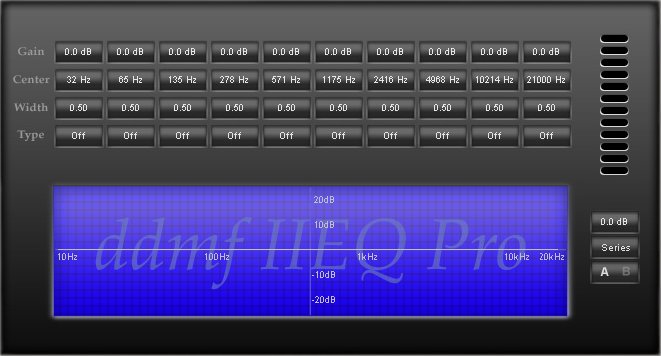 IIEQ Pro was designed to deliver superior sonic quality while maintaining a low CPU consumption. Hence, it is the ultimate track EQ which can be inserted into your project many times without having to worry about audio dropouts or stuttering.
IIEQ Pro features
10 fully parametric bands
12 filter types per band
filters can be used in series or in parallel configuration
IIEQ Pro costs 50 euros. The previously available free IIEQ version will come back in a 2.0 version soon, with a completely new GUI.
SmallEQ might well be the smallest EQ plug-in you've ever seen. The screenshot below is the full GUI.

SmallEQ features
8 fully parametric bands
one low- and one highshelf filter
full engine of the IIEQ
small GUI!
ddmf's mastering equalizer LP10 has also been updated.
Visit ddmf for more information and links to download demos of IIEQ Pro and LP10, and to download the free SmallEQ.