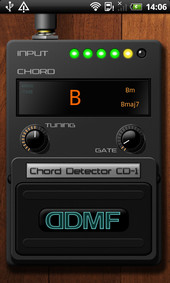 DDMF has updated Chorddetector, a chord detection software for Windows and Mac.
The chord detection algorithm has been improved, and there is now the possibility to scroll through the audio track using mouse-dragging.

In addition, an Android version of Chorddetector has been released, together with the Dutch app company IndieIT.
Chorddetector for Windows and Mac is available to purchase for $15 USD. The Android version is available from the Android Market for 1.99 EUR.
More information: Chorddetector