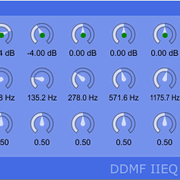 DDMF has released an update to IIEQ, its fully parametric 10-band equalizer with its own, characteristic sound and low CPU consumption.
The freeware equalizer IIEQ is now also available for Mac! It has always seemed a bit unfair that only Windows users could enjoy this legendary piece of software (jeez, it's been five years already!). So it was about time for a Mac version. The GUI changed a bit, but under the hood it's still our good old friend.

Furthermore, the Windows version is now also available as a 64 bit plugin. The rest of the bunch will soon follow… stay tuned!
IIEQ is available as a free download from the DDMF website.