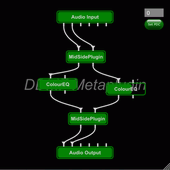 DDMF has released version 1.2 of Metaplugin, a plugin chainer for Windows and Mac.
First of all, MacOSX Universal Binaries (Audio Unit and VST) are now available. And on the Windows side, a 64 bit version has been compiled (the user should load 32 bit plugins into the 32 bit version and 64 bit plugins into the 64 bit version).

Furthermore, Metaplugin now supports up to 6 in-out-channels. Which means the user can load it, e.g., into a 5.1 channel of the host and chain plugins on all six channels (and across channels). Also, the dry/wet amount going through each of the loaded plugins can be adjusted (shift-clicking on the plugin rectangles turns them into horizontal sliders). And the overall latency that is reported back to the host is now not only visible, but can also be changed manually.
Metaplugin is available to purchase for $29 USD.
More information: DDMF / Metaplugin