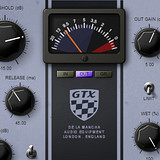 de la Mancha has released revision B of GTO & GTX, a bundle of compressor effect plug-ins for Windows.
GTO and GTX are a pair of vintage style 'character' compressors, designed like their muscle car name-sakes for brute power, pure speed and to make a loud noise. They have everything you'd expect in a thorough-bred compressor, but are tuned for maximum control and ease of use, each with their own unique vintage colouring on top.
Changes in GTO & GTX Revision B
Added option to chose from 2 attack/release curves with the SHAPE toggle.
Added peak meter hold time control, using the screw on the meter to adjust sensitivity.
Noise level is now dynamic to output level plus random element, was previously static.
Added a ground loop to remove the 60Hz mains hum.
Fixed bug where zero release time would disable the sidechain.
Internal sidechain only versions for hosts that don't allow multi-input plugins.
Meter selection isn't now saved with preset.
GTX is a less intense shade of blue.
GTO & GTX are currently available to purchase in the Vintage Colouring Bundle Group Buy, where you can buy a bundle of 5 plugins for $21 USD if 20 or more participants sign up before April 30, 2010. The regular price for GTO & GTX is $29 USD.
More information: de la Mancha / GTO & GTX