Dead Duck Software has launched Deducktion, a 32 note-polyphonic synthesizer based upon a classic subtractive design.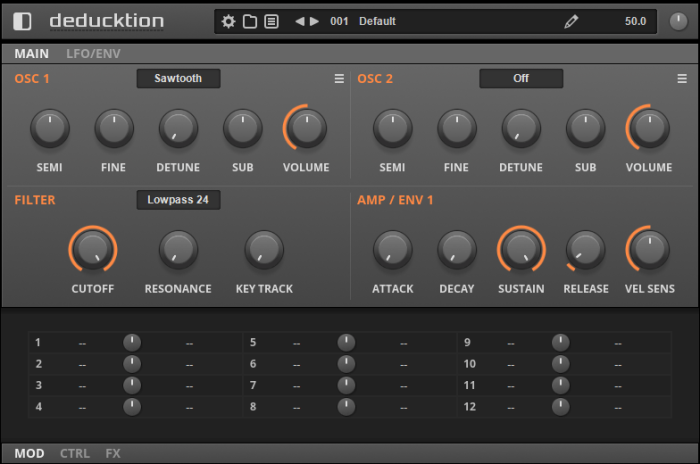 It includes two oscillators, a filter, three envelopes, four LFOs, a 12-slot modulation matrix and built-in delay, chorus and reverb effects.

The Deducktion user interface is divided into a number of pages: a two-part upper section containing the oscillator, filter, LFO and envelope sections, and a lower 'sub' section containing the modulation matrix, performance controls and effect pages.
Deducktion features
Two oscillators with saw, square, triangle and noise waveforms with 'supersaw' detune, PWM and square/triangle sub-oscillator options.
Resonant multi-mode filter with lowpass, highpass, bandpass, bandstop and peaking options.
Three envelopes, four LFOs and a 12-slot modulation matrix for a wide range of modulation possibilities.
Built-in delay, chorus and reverb effects.
MIDI CC control of parameters and modulation sources allowing full interaction with hardware controllers.
Customizable GUI themes.
Deducktion is a free download as a 32/64-bit VST plugin for Windows at KVR Audio as part of the Developer Challenge 2018.
More information: Dead Duck Software