Plugin Boutique is offering a 50% discount on iZotope Trash2, the plugin that offers 60+ distortion algorithms, perfect for transforming your sound into something never before heard.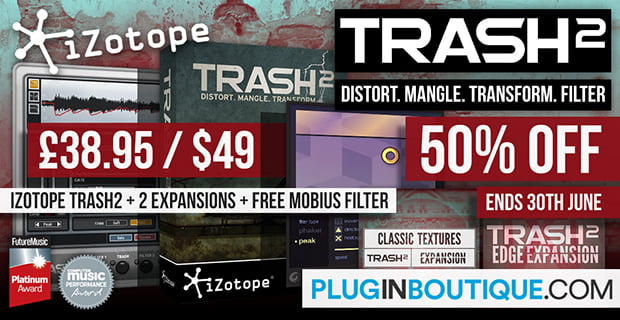 Trash 2 takes the best of Trash and makes it even better. With an entirely new sonic architecture, brand new features, optimized performance, better sound quality, and support for modern hosts and formats, Trash 2 is primed for a powerful new era of audio mangling, distortion, and experimentation. Let sonic mayhem ensue.
The offer also includes the Classic Tension and Edge expansion packs, as well as a FREE copy of the Mobius Filter perpetual motion machine.
Add movement and emotion to your music with Mobius Filter's infinitely ascending or descending filter sweeps. Find the sweet spot for your track quickly and fluidly, to push to extreme heights or add subtle hints of motion. Create fresh filter effects for any genre – massive filter swells, psychedelic alternatives to flange effects, or fresh inspiration for adventurous soundscapes.

Based on the auditory illusion of the Shepard tone, Mobius Filter creates perpetually rising or falling effects while maintaining full-frequency bandwidth. Add it to any source audio to instantly create fresh energy for your tracks.
The sale ends June 30th, 2017.
More information: Plugin Boutique / iZotope