Plugin Boutique has launched an exclusive sale on Sparkverb, the algorithmic reverb plugin that traverses everything from natural sounding spaces to infinite, shimmering ambiences with stunning depth and fidelity throughout the entire spectrum.
With a cutting-edge algorithmic design, Sparkverb breaks the boundaries of contemporary reverbs giving users modern and innovative controls that dramatically enhance usability, speed and creative freedom while delivering breathtaking sound quality and remarkable CPU efficiency.
Sparkverb features
Advanced design with stunning sound and CPU efficiency.
Intuitive controls and ergonomics for phenomenal ease-of-use.
Randomize, mutate, and explore space between presets for limitless sonic options.
Sparkverb for Windows and Mac (VST/AU/AAX) is available at 40% off until July 4th, 2017.
Also on sale are the UVX-3P and UVX-10P classic 80s synthesizer instruments for UVI Workstation.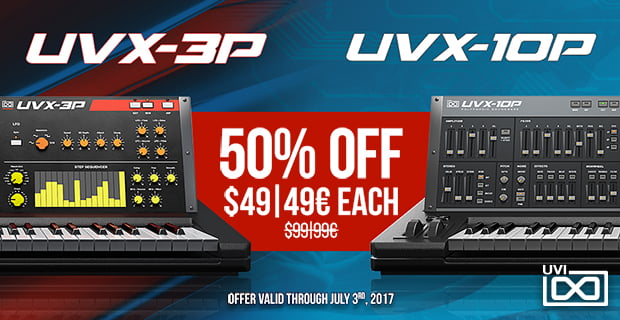 UVX-3P was developed with the same care and thoroughness as our other Vintage series instruments. A JX-3P was fully restored to factory spec, programmed by members of our sound design team and deeply multi-sampled, capturing samples both dry and with the built-in analog chorus enabled. Great care was taken to capture a wide range of the sonic capabilities of this synth, giving you 160+ presets in all.

UVX-10P was designed to deliver on all of the strengths of the JX series with none of the weaknesses. We started with a pristine JX-10, MKS-70, and JX-8P and set off, tirelessly programming and sampling these beauties in high-resolution through a world-class signal chain. As with the UVX-3P we made every sample twice, with and without the built-in chorus, providing an authentic and versatile foundation. This sonic backbone paired with the UVI Engine results in a lush and extravagant analog sound; faithful to the hardware with a modern studio bite.
Both instruments are 50% off until July 4th.
More information: UVI