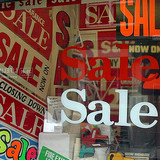 December is always a great month to purchase plug-ins and sample packs, as many companies have some kind of seasonal promotion going on.
In this post I will keep a list of current deals.
I will try to keep the list up-to-date but I am sure I'll miss some, so feel free to use the comment form so I can add them. Ones that are expired are colored gray.
Since the round-up seems to have garnered quite some interest I decided to create a dedicated page for promotions throughout the year. Feel free to spread the news so everyone can get some good deals.
Deals, deals, deals
| Company | Promotion |
| --- | --- |
| Abbey Road Plug-Ins | RS124 Compressor plug-in 55% off until December 15. |
| Ableton | Save Up to 25% on Live 8, Suite 8, and Max for Live, until 15 January, 2011. |
| AcousticSamples | 30% off everything until December 31, 2010. |
| Admiral Quality | 40% off Poly-Ana and L'il Poly-Ana, until December 31, 2010 . |
| Applied Acoustics Systems | Holiday Special, two discounted bundles. |
| Arksun-Sound | All commercial sound banks half off until 31 December, 2010. |
| AudioSpillage | 25% off all DrumSpillage orders until 15 January, 2011. |
| Big Fish Audio | Savings up to 50%, covers entire range of products. Available until Christmas. |
| Big Tick Audio | 50% off the Rhino synth with promo code XMAS2010 |
| Blue Cat Audio | 20% off all Blue Cat audio plugins and bundles, until December 31. |
| Brainworx | Reversed Advent Calendar, the longer you wait the smaller the discount so act fast. — Now frozen at 15% discount (until January 3, 2011). |
| CFA-Sound | 25% off all CFA-Sound products until 31 December. |
| Cinesamples | 20% off sample libraries until 26 December, 2010. |
| Crysonic | 60% off all Crysonic plug-ins and 70% off bundles for PC & Mac, until 7 January, 2011. |
| D16 Group | up to 40% discount on plug-ins and bundles until January 15, 2011. |
| Dance MIDI Samples | 15% off with coupon code X-MAS-SALE-2010, valid until December 27, 2011. |
| de la Mancha | 25% off with coupon code HOHOHO, valid until January 8, 2011. |
| Detunized | Detunized Christ Mass Rally – Live Back Packs, Reason Refills and Directwave Banks for 5.55 EUR until end of the year. |
| Diginoiz | 50% off ALL products on DIGINOIZ.COM until January 3, 2011. Note: Add at least 3 packs to the cart and enter discount code: diginoiz |
| EastWest | Buy 1 Get 1 Free + Nomad Factory British Bundle for an additional $15 USD. Ends December 31. |
| eSoundz | Sonic Reality sample libraries at 50% discount and MORE on Refills for Reason, Infinite Player libraries for Kontakt and all RAW titles. Until 28 December. |
| FabFilter | Holiday Bundle Sale, 25% off plug-in bundles until December 31, 2010. |
| FatLoud | 70% off any order of 3 product or more with promo code INSANE, until 31 December, 2010. |
| Flux | Winter Holiday Special, get 30 to 40% off plug-ins and bundles until 31 December, 2010. |
| Future Loops | Up to 50% discount on sample packs until 26 December. |
| FXpansion | 50% off on BFD expansions and DCAM: Synth Squad sound banks. |
| G-Sonique | Up to 30% off on products until 31 December, 2010. |
| H.G. Fortune | Special X-Mas offer for ScapesWizard Pro, 50% off until January 1, 2011. |
| Impact Soundworks | Group buy offers up to 60% off on bundle of ISW sample libraries, until January 1, 2011. |
| Jiggery-Pokery | New Year Sale. £5 GBP off all Organs and Blue Meanie. |
| KarmaFX | 35% off sale on KarmaFX Synth Modular, until January 14, 2011. |
| Keolab | 40% off Spicy Guitar until 7 January, 2011. |
| Kirk Hunter | Up to 50% off in Kirk Hunter Pop/Rock Strings Group Buy, ends December 22, 2010. |
| LinPlug | The Synths Bundle, over 50% off on bundle of synths and presets. |
| Little Endian | SpectrumWorx is 40% off until 9 January, 2011. |
| Loopmasters | 20% off sample libraries from the Loopmasters label + more deals. |
| Lyrical Distortion | Up to 50% discount on all products, until 31 December, 2010. |
| MeldaProduction | MDrummer, MTotalBundle, MCreativeBundle, MMasteringBundle and all separate effects 30% off until the end of the year. |
| New Sonic Arts | Granite granular texture generator for $49 USD until 1 January, 2011. |
| Ohm Force | a pair of 40% discounted plug-ins each friday of December. |
| Orange Tree Samples | 35% off all sample libraries until the end of December. |
| Overloud | 40% discount on all Overloud products. |
| P5Audio | Happy New Year 25% off Sale, thru January 3, 2011. |
| Prime Loops | 50% off all sample packs and bundles. |
| Precisionsound | Wintersale is good for 50% discount on all sample libraries until 31 December. |
| Producer Loops | Up to 50% off 500+ sample packs until 31 December, 2010. |
| Prodyon | "Plugin-For-Life" deal for %29.99 USD, until 15 January, 2011. |
| Prominy | Winter Sale, up to 33% off until 30 December, 2010. |
| Rayzoon | Big Holiday Sale until 31 December, 2010. |
| reFX | Annual Christmas Sale with discounts of up to 44%. |
| Sample Magic | Christmas Price Drop, up to 50% off on sample packs. |
| Samplerbanks | 50% discount on Minimal Pop sample library until 27 December, 2010. |
| Sampletekk | 50% off sample libraries until 21 January, 2011. |
| Samplicity | Impulse response libraries 25% off through December. |
| Sensomusic | Save 50% on Usine pro until January 15, 2011. |
| SIR (Christian Knufinke) | 25% off all SIR products through December. |
| Soniccouture | Buy 1 Get 1 Free + 50% off Soniccouture Classics. |
| SonicProjects | Hot December X-Mas deals for OP-X Oberheim OB-X emulations, until 31 December, 2010. |
| Sonokinetic | Sonokinetic Holiday bundle at 60% discount until December 28. |
| Sound Performance Lab | Front End and Back End Xmas Packs – free plug-ins with hardware purchase until the end of the year. |
| Sonivox | 20% discount with promotional code "YearEnd", until January 2, 2011. |
| Sonoma Wire Works | 10% off various sound libraries, $30 off RiffWorks Standard & $50 of GuitarJack, until January 7, 2011. |
| Soundcells | Christmas Advent Calendar with various discounts on most of their products. |
| Soundhack | 50% discount on Spectral Shapers, until January 7, 2011. |
| Sugar Bytes | Insane Christmas Sellout – discounts on all plug-ins. |
| Synapse Audio | Xmas Quad Pack, synth bundle deal (30% discount) available until 31 December, 2010. |
| The Loop Loft | 30% off all sample packs, use discount code "holiday" during checkout. |
| Time+Space | Christmas Deals – Collection of limited time bundles and product offers. |
| Tonebuilder | 25% off Driven Machine Drums sample library. |
| Tonehammer | Various freebies and limited time discounts as part of Gnomehammer 2010. |
| Toontrack | Superior Drummer discounts, free EZX with EZdrummer, 50% off Joe Baressi Evil Drums. |
| TruePianos | 33% Christmas discount on TruePianos until 22 January, 2011. |
| Vienna Symphonic Library | Free Extended Library with purchase of Vienna Instruments DVD Collection (Standard Library) + 23% off on Customized Bundles, until 16 January 2011. |
| VirSyn | all VirSyn instruments and effects are discounted until December 31. |
| Voltage Disciple | Free City Tech pack included with purchase of the Live Pack Bundle, offer available until January 10, 2011. |
| Voxengo | Winter Holidays 2010-2011, 10% discount on all effect plug-ins until the end of 2010. |
| Wave Alchemy | Up to 50% off sample libraries until January 4, 2011. |
| Wave Arts | Holiday Sale – 20% off on any Wave Arts product during the month of December. Use coupon code CPN5955255579 |
| Waves | 40% off all Waves Native and TDM audio plugins, bundles, & upgrades. |
| Yellow Tools | Independence Pro for 99 EUR (includes Independence Pro Software Suite 3.0) until December 31. |