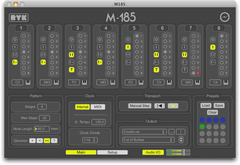 Defective Records has updated its M-185 software step sequencer for Windows and Mac to version 1.6.
M185 is a MIDI-enabled recreation of RYK's hardware M185 step sequencer developed with the input of RYK himself. It reproduces almost all of the features of the hardware version, and adds many new ones as well. The hardware M185 was designed to work with Roland's classic 100M modular analog synth. This software version now opens up the unique capabilities of the sequencer, with its stage-specific gate modes and clock pulse count, to MIDI-enabled hardware and software synths.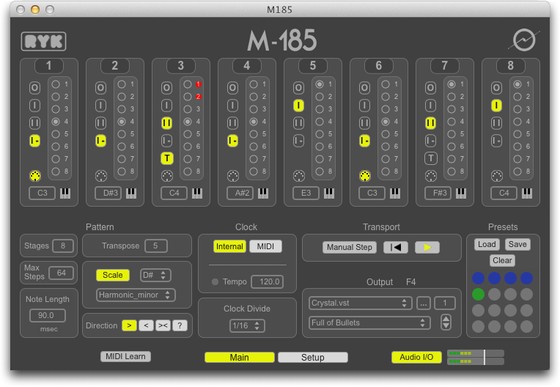 Changes in M-185 v1.6
Global transpose function.
Constrain notes to scale.
Additional clock subdivisions.
MIDI CC controllers now scaled to cover their full 0-127 range.
Inactive stages now a bit lighter, so can edit them via MIDI CC even when inactive, and still see what you're doing.
Demo preferences now isolated from Full Version preferences.
On Macintosh, application signed with Apple Developer ID, so compliant with Mac OS Gatekeeper (10.7.x and 10.8.x) setting that allows identified Apple developer applications to be installed.
M-185 for Windows and Mac (VST) is available to purchase for $40 USD.
More information: Defective Records / M-185