Denise has announced the release of its take on two classic effect plugins: Space Invader and Bite.
Besides being powerful themselves, both plugins complement the successful Noize adaptive noise generating plugin. While offering everything you'd expect from classic effects, these versatile plugins allow you to work more creatively with smooth controls and an analog edge.
Space Invader
Wanting to take the basic flanging effect a step further and make it a plugin that can be used more musically, the denise team introduced host sync, triggering, split, flip and flutter.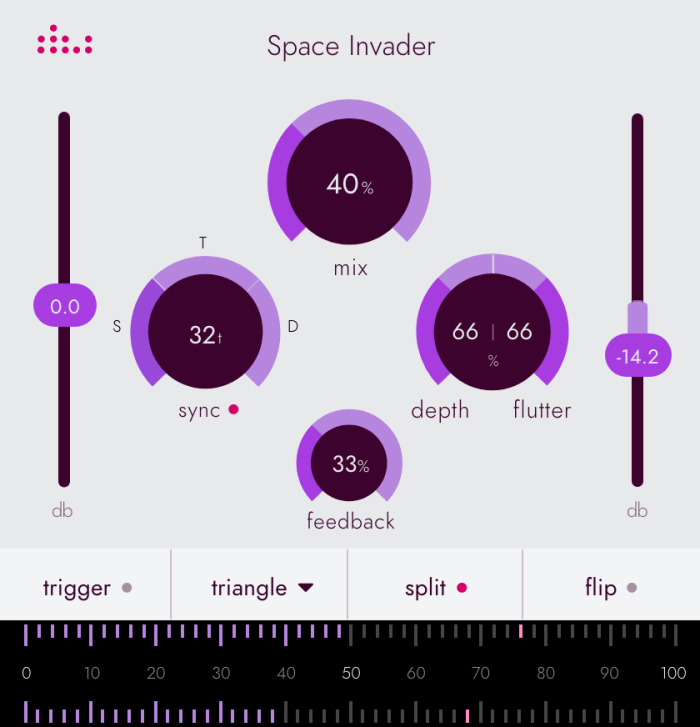 During the internal beta testing, denise's Enrico (nrec) was the first to comment (on Slack): "Oh bloody hell, I've never tried a flanger like this! It's a-ma-zing!".
He explains: "The Sync and the flip make it such a creative tool that I even forgot I was playing with a flanger. Automating them, I came up with amazing rhythmic patterns for my bass sounds".
"Usually I never use a flanger in my productions but i fell in love with the denise Space Invader. The waveform selection and the sync make everything more fun. I'm using it a lot on cymbals to give them more movement." – Ayarcana (Berlin – DJ/Producer)
Space Invader features
Control the groove: Create tempo synced flanging effects that rhythmically lock to your track.
Easily create precisely timed risers and built-ups that span multiple bars.
Re-trigger the effect to create any flanging rhythm you like, even on off-the-grid recordings.
Introduce analog flutter and a 90 degrees phase offset for a wide stereo effect that throws you back to the 60's.
Low CPU usage.
Bite
Bruise, break and crush your mixdown to get that LoFi house-techno, industrial and IDM sound, but with full control and an analog edge.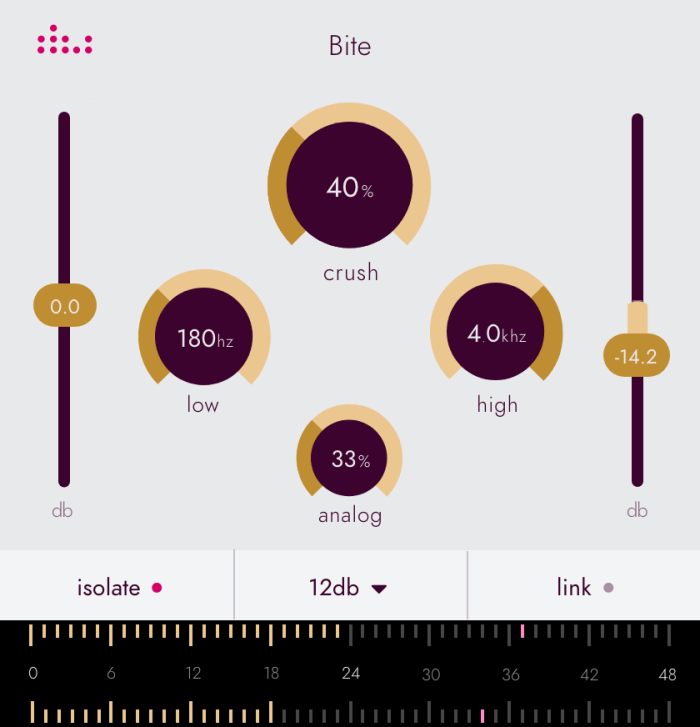 The Bite also works great with the denise Noize to make sounds even dirtier, for example by adding it to white noise on a snare.
The filters and analog dial give you sophisticated control and let you add subtle noisy distortion to a synth or ambient – in a more musical way than you could with regular saturation or distortion.
Gradually crush your sounds over multiple bars in one rise.
"The analog feature for a bit crush is genius and paired with the high and low pass filters makes it easy to focus the distortion and how warm you want it to be. A tool fix for many jobs." – Hi5ghost (Bristol UK – DJ/Producer)
Bite features
Transition gradually from 32-bit all the way down to 1-bit for smooth automation with surgical precision.
Use the analog control to go from harsh and digital to subtle with a warm tone.
Re-trigger the effect to create any flanging rhythm you like, even on off-the-grid recordings.
Exercise full control over the frequency range you want to crush. Preserve the low end and color your sound.
Use on a bus of full mix with the link button to retain the stereo image.
Work offline without dongles or complex licence managers.
The plugins are now available in VST/VST3, AU and AAX plugin formats on the Denise website and from distributor Plugin Boutique.
Each plugin costs 29 EUR. Both are also included in a bundle with the Noize plugin for 59 EUR. Previous Noize owners can upgrade for EUR 39. Prices incl. VAT.