Plugin Boutique has announced the release of the Perfect Room reverb effect plugin by Denise, which uses a unique algorithm that enhances natural character and coloration.
Classic algorithmic reverb plugins use a combination of short feedbacking delays to create the illusion of reverberation. These delays cause unwanted metallic resonances and sharp spikes in the reverb's frequency response. The denise team challenged themselves to create something better – a perfect room – and invented their TXVerb™ technology. Using this technology, the denise Perfect Room doesn't use delays for the tail and will enhance the character and colouration of any audio you run through it in an extremely natural way, sounding defined and tight from the lowest kick all the way up to the highest vocal.

Looking for feedback from professional musicians and engineers, denise asked Thomas Qvist of the Royal Danish Conservatory to test the Perfect Room. He tried it out with his students, and even though the team at denise think the Perfect Room is powerful, it's always an exciting moment for them to find out if the real world actually likes it, too. Go and test it yourselves…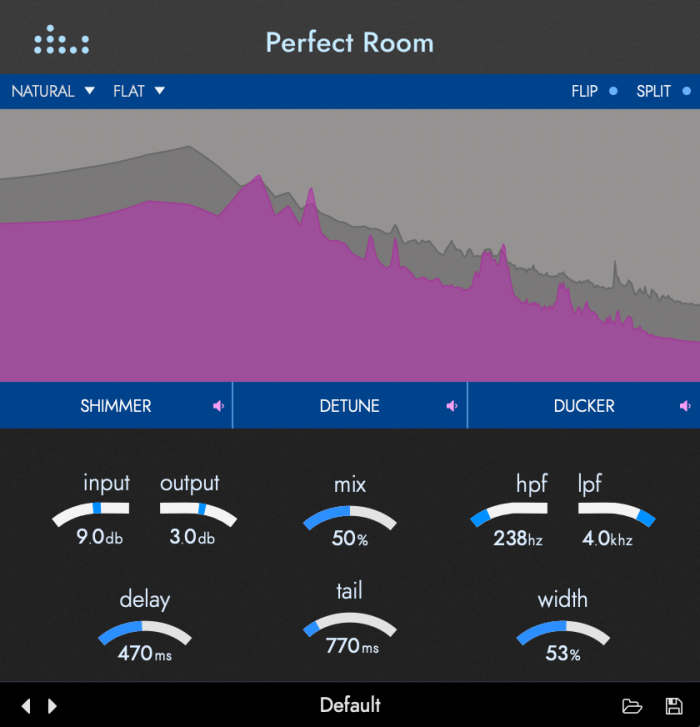 Perfect Room features
TXVerb™ reverb technology: Unique algorithm that enhances natural character & colouration.
Zero metallic resonance: Retain the clarity and presence of your lead instruments without metallic cluttering.
Completely tight low-end: Add reverb that sounds completely tight when used on low sources like kick-drums, toms, basses & synths.
Larger than life mono –> stereo: Create a wide stereo reverb from a mono source without any phase issues.
Crazy effects: Built-in Shimmer, Detune & Internal Ducker.
Single tracks, busses & mastering: Sounds so balanced you can use it on your whole track during mastering.
Perfect for external FX: Used on a bus, you can combine the Perfect Room with all kinds of effects to create character and excitement.
Perfect Room for Windows and Mac (VST/VST3/AU/AAX) is on sale for the intro price of 34.90 EUR (regular 109 EUR).
A purchase of this plugin (and any other Denise plugin) also includes the Slappy hysteresis saturated slapback delay plugin for FREE during the promotion.
Regular digital saturation can sound harsh in the high end. denise's hysteresis saturation, as used in their Bad Tape plugin as well, uses a smoothing algorithm that creates a warm and analog sound known from vintage tape machines.
The plugin is also included in the Denise Complete Collection bundle, which is on sale at 60% off regular until January 6th, 2019.
More information: Denise