Denon DJ has announced the MC4000, a new Serato MIDI controller.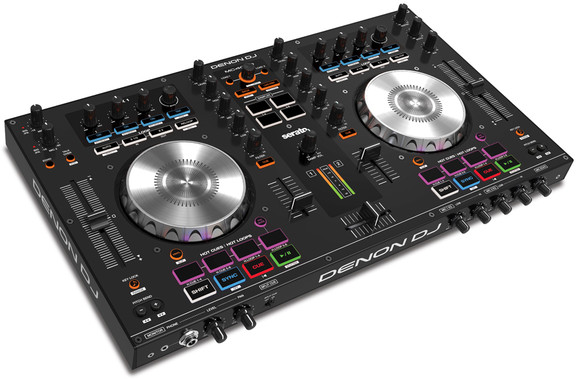 The all-new MC4000 is a 2-deck Serato MIDI controller for the professional DJ, wrapping in- demand audio manipulation tools in a robust steel chassis. In addition to precision touch-activated jog wheels, performers get access to dedicated hot cue and sample pads for on-the-fly creativity.

Long-throw 100mm pitch faders and an intuitive control layout deliver natural operation when balancing complex set elements. Known for their emphasis on sound quality, Denon DJ includes a premium 24-bit audio output path for noticeably clearer mixes.

Denon DJ's highly regarded dual microphone inputs are complemented by a studio-grade echo effect, and "ducking" feature—effortlessly moving vocals to the top of the mix without riding faders. The MC4000 includes Serato DJ Intro and will be compatible with Traktor 2, and Virtual DJ 8.
MC4000 features
Premium 2-Deck controller for Serato.
Includes Serato DJ Intro; user-upgradeable to Serato DJ.
Touch-activated jog wheels for accurate scratching and track cueing.
Dedicated hot-cue and sample trigger pads with illuminated feedback.
Long-throw, 100mm pitch faders.
All-new control layout for effortless, intuitive use.
Dedicated EQ and FX controls on each channel.
(2) balanced mic inputs with 2-band EQ, Ducking, and Echo effect.
Compatible with Traktor 2 (via .tsi files) and Virtual DJ 8.
RCA Aux input for external device mixing.
Balanced Main and Booth Outputs.
Pro-grade steel construction.
The MC4000 will be available in Q2 with an MSRP of £299.99 GBP.
Denon has also introduced the DS1, a breakthrough interface for users of Serato NoiseMap – the system used to control a Serato-based digital music library using a turntable or compact disc player.
The DS1 is plug and play with Serato DJ, extending Denon DJ's hallmark audio quality and reliability to club DJs and turntablists who prefer the feel of vinyl, but desire the flexibility a digital music library provides.

At the core of the all-new DS1 is a bi-directional audio interface with two sets of RCA stereo inputs for turntables or professional CD players. As users manipulate the vinyl or CD NoiseMap signal, Serato DJ software mirrors the control signal—controlling digital tracks on-screen in real-time for beatmatching, cueing, scratching, and track juggling.

Playback audio is distributed by the DS1 to a mixer or loudspeaker system in studio-grade 24-bit quality via two sets of RCA stereo outputs.
DS1 features
Premium Digital Vinyl System (DVS) interface for Serato DJ.
Interfaces turntables and CD players using Serato NoiseMap with a Serato DJ-based digital music library.
Plug and play with Serato DJ—no purchase necessary.
(2) sets of stereo RCA inputs and outputs for left and right decks.
Studio-grade 24-bit digital to analog conversion.
Supports 44.1kHz, 48kHz, and 96kHz sampling rates.
Dedicated grounding post for use with turntables.
Single USB cable connection to a computer for power and audio.
Includes (2) Serato NoiseMap control tone vinyl records and CDs.
Includes USB and stereo RCA cables.
Rugged, all-metal construction; carrying case included.
The DS1 will be available in Q2 with an MSRP of £229.99 GBP.
More information: Denon DJ