Deskew Technologies has announced the release of Gig Performer 1.0, a robust and versatile audio plugin host application that enables bands or solo artists to gain complete control of their live music rigs, effects, voices or all simultaneously.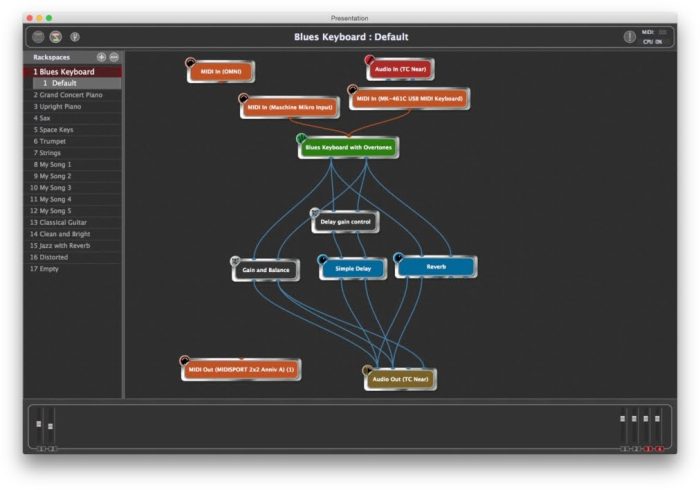 Running on both OSX and Windows with full Open Sound Control (OSC) support, Gig Performer's innovative approach and focus on usability is paired with an intuitive rack design, called a Rackspace, which transforms a performer's plugins into the most powerful, yet user-friendly live music software system. An impressive list of cutting edge features enable musicians to control multiple instruments, layer sounds and employ authentic effects easily, and all with little CPU usage.

Unlike other live performance applications that deploy traditional channel-strip approaches with confusing busses, sends, auxes or inserts, Gig Performer instead uses performer and connection views, enabling musicians to simply connect plugins to each other any way they want, then custom-design Panels to control each Rackspace. They can then add Variations, which allow multiple sets of settings for a single Rackspace, and switch instantly between them.

For instance, if they create a Rackspace consisting of an electric piano and some effects (phase, reverb, tremolo) then they can switch instantly from fast deep tremolo, to slow mellow tremolo plus reverb, and so on, even while still holding notes. Plus, they can customize their Panels using a variety of available widgets (knobs, switches, levers, LEDs) and colored face plates.

They can also use Gig Performer with their existing environment, by training it to recognize the controls on their keyboards, OSC apps, MIDI expression pedals and control surfaces, and then use them to control plugin parameters. Features such as layering and splitting operations, and individual transposition are also built in.

"We're already using Gig Performer on stage and on tour and it has worked flawlessly," said David Jameson, co-founder of Deskew Technologies, co-developer of Gig Performer and keyboardist/Eigenharpist for The Security Project and Beyond the Wall. "Our mission was to create a computer based sound management system that is highly reliable, versatile and easy-to-use. Gig Performer elevates the live performance experience with complete control unlike anything before."
Gig Performer features
Instant switching – Switch among your rack spaces – INSTANTLY and GLITCHFREE.
MIDI & OSC support – Use your existing MIDI and OSC devices and apps. Map any control to any controllable parameter.
User friendly – Gig Performer is user-friendly. You will be able to create complete setups in no time.
Low CPU usage – We've spent countless hours making sure that Gig Performer uses as few CPU cycles as possible.
Cross platform – Works on OS X and Windows devices. Your GIG files can be opened on both platforms.
Flexible – Connect any plugin to any other plugin in any configuration. Parallel or serial – no AUX busses needed.
Built-in tuner – If you need to tune your instrument quickly – Gig Performer's built-in tuner is accurate, large and just a click, tap or push away.
Advanced MIDI functions – Associate specific MIDI devices with particular plugins easily and visually. Use transpose, channel mapping, MIDI out settings and more…
Variation support – Easily create variations of your rackspace. Switch between variations seamlessly – even while holding notes or chords on your keyboard or guitar.
Musicians can use touch surfaces such as Lemur or TouchOSC to control Gig Performer, as well as applications such as Max for even more sophisticated control. Gig Performer supports VST formats on both OSX and MS Windows, as well as the AU format on OSX. AAX support will be included later.
Gig Performer is available for the introductory price of $124 USD (MSRP $249 USD).
A free 14-day trial version is available.
More information: Gig Performer