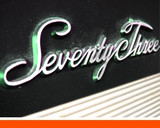 DETUNIZED.COM has released DTS006 – Rodox 73, a sample library featuring the sounds of a Rhodes Mark I.
This time we picked up a dusty Rhodes Mark 1 we found in a desolated rear building near my hometown. We tried to get the best out of it and were amazed about the stable sounds this piece gave us! The thing I personally like most is the key-off sound when releasing the lower keys.

In our Rodox 73 extension you can steplessly mix the level of these release sounds ad libitum. Furthermore we processed the recordings through different outboard gear such as tubes and reverbs.

So you will have the original Mark 1 sound plus some nice modifications of it, each one basing on its own set of samples.
DTS006 – Rodox 73 features
4 instruments, 145 samples.
Keyrange: as the original (E0 to E6)
Download Size: approx. 120 MB.
Installation instruction included.
DTS006 – Rodox 73 is available as an instant download for €6.98 EUR. Subscribers pay €4.98 EUR.
More information: DETUNIZED.COM