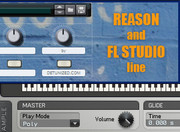 Detunized has announced the launch of the Reason and FL Studio Line, releasing 10 new Refills and Directwave Banks.
The new "Reason and FL Studio Line" offers a comprehensive variety of sampled instruments, different synthesizers and electromechanical keyboards.

In conjunction with the creative possibilities of the Reason and FL Studio DAW´s Detunized founder Stephan Marche developed authentical emulations of classics like Yamaha CS-15, Rhodes Mk.1 or the Russian Elektronika EM-5. The new product line also offers unusual sounds from a dilapidated Upright Piano, a full-sized modular system or an OPL3 FM-chip.

For the ambitious sounddesigner several inspiring collections of textures and drones are ready to use.
The "Reason and FL Studio Line" will be expanded in the near future by a series of new releases.
The Detunized Refills and Directwave Banks are now available to purchase as download for 6.98 EUR each.
More information: Detunized.com