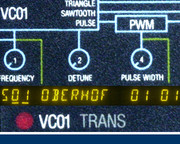 Detunized has released Oberhof, a multi-format sample pack featuring sounds from the Oberheim Xpander.
The 1984 Oberheim Xpander is often called the "last statement" in analog synthesizer design.

Digitally controlled but with a pure analog signal path this synthesizer grants for maximum versatility combined with overwhelming sound. Soon the Xpander established as the state-of-the-art machine for the creation of dense pads and complex textures. With its warmth and depth it became a perfect complement to the all-digital DX7 that was introduced one year before.
Oberhof features
25 instruments for Ableton Live, Reason and FL Studio.
Some of the virtualisations represent the sound of the original nearly unaltered while others make extensive use of the particular DAW´s effect and modulation capabilities.
520 MB content, includes 797 samples.
Oberhof is available to purchase for Live Pack subscribers for 4.98 EUR, or as an instant buy download for 6.98 EUR.
More information: Detunized