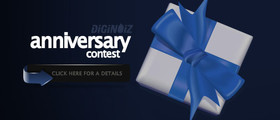 Diginoiz has announced the Diginoiz Anniversary Contest, a limited time promotion in celebration of its first anniversary.
It's been a year since we released our first product. It was a very long and hard working year during which our products were very popular – thanks to you! First of all we would like to thank you for this great period.

Due to our anniversary we have prepared special offers described below:

Everyone who will buy any of our products on www.diginoiz.com will take part in a lottery drawing for a free subscription of our sample packs till the end of the 2011. As a bonus, the winner will be able to pick 5 free sample packs that were released before.
from 19.04 for the whole month our products can be bought with a 30% discount. Just use code:

diginoiz

And this is not the end of our special offers, more details soon!
More information: Diginoiz