Plugin Boutique has announced a sale on Digital Brain Instruments, offering a 50% discount on its interactive audio tools for sound designers, musicians, audio engineers and game developers.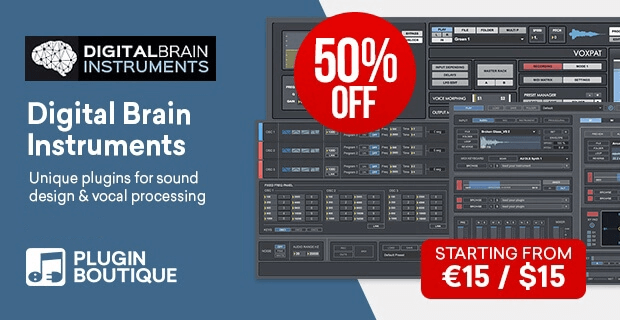 The sale includes:
DSP Manager: control loudspeaker systems using your computer & soundcard.
Oscar: complex tone & noise generator for testing, analysing and audio related purposes.
Transformer: a new way for morphing and performing your sample libraries
Voxpat 2: a real-time monster, creature & robotic sounds designer
Batch Pro: real-time processing & recording a large amount of files in a few clicks.
cMixer: handle all your audio needs inside-the-box
Multiplex Vocoder 2: transform your favourite synthesizers or any audio file into a vocoder carrier signal
Talkie Box: all-in-one soultion to create realistic radio, walkie talkie and telephone sfx.
The offer expires August 1st, 2020.
More information: Digital Brain Instruments